Library
Library is the heart of an educational institute. The college has a rich and resourceful collection of books and journals of repute, updated regularly so that faculty and student can keep abreast of the recent developments in pharmaceutical sciences. It is provided with library software and internet connection for online referencing.
The library, apart from users from the college is open to other academic/professional users of other membership institutes/professional institutes for reference. Visitors are requested to bring an official letter from their Librarian/Head of the Department/Guide/Principal. For further information, please contact the college Librarian.

Working Hours
Monday-Saturday
For Reference (Stacks/Reference): 9.00 a.m. to 6.00 p.m.
For Reference (Periodical Section): 9.00 a.m. to 6.00 p.m.
Issue/Return of Books (Archival/Textbook): 9.00 a.m.to 6.00 p.m.
Issue/Return of Books/Journals: 9.00 a.m. to 6.00 p.m.
Reading Hall: 24*7
Sunday
The circulation counter remains closed on all Sunday and national holidays.
Library Services
Circulation Service, Current Awareness Service, Inter-Library-Loan, Photocopy service & Reference service.
Online Services
CDs database, E-journal, E-Database, Digital Library consortium & OPAC.


Library Members:-

Name
Designation
Qualification
Email Address
Mr. D. T. Gaikwad
Library In-charge
M.Pharm., M. B. A.

This email address is being protected from spambots. You need JavaScript enabled to view it.

Mrs.S.S.Patil
Librarian
B.A., M.Lib & I. Sc.

This email address is being protected from spambots. You need JavaScript enabled to view it.

,


This email address is being protected from spambots. You need JavaScript enabled to view it.


Mob No-7057272498
Mr.P. D.Sawant
Clerk
B.A., M. Lib & I. Sc.

This email address is being protected from spambots. You need JavaScript enabled to view it.

Smt. S. P. Patil
Clerk
M.A.

This email address is being protected from spambots. You need JavaScript enabled to view it.

Mr. P. F. Desai
Attendant
S.S.C.

This email address is being protected from spambots. You need JavaScript enabled to view it.

Miss. P.S.Mane
PG Student
II yr M. Pharm

This email address is being protected from spambots. You need JavaScript enabled to view it.

Mr.N.N.Patil
UG Student
III yr B. Pharm

This email address is being protected from spambots. You need JavaScript enabled to view it.



Photocopying:-
Reprography facility is available in all working hours.
Statement of Expenditure on Books as on date

Particulars
Total No
Total Cost Rs.
Book Titles
3157
83,16,086.47/-
Book Volumes
16857
Chemical Abstracts, JACS, Tetrahedron Letters
2621
50,00,000/- (Approx)
Total Expenditure on Books
83,16,086.47/-
E- Books
2502
Total Investment of Books (2019-2020)
46601/-
National Journals & Periodicals
15
20605/-
Journals - 09
Periodicals - 06
14500/-
6105/-
International Journals - E Journals (Delnet and Bentham)
13500/-
Total No & Cost of Journals
34105/-

E- Electronic Databases
Library has access to following databases; these can be accessed on the Internet. Please click on the database name to access these databases.



How to Access Delnet E –Journals
URL:
http://www.delnet.nic.in
User Name:
mhbvcp
Password
bvcp5663
Subscription Type:
Open Access (Subscription Amount Paid)




How To Access National Digital Library
URL:
http://www.ndl.iitkgp.ac.in
User Name:

This email address is being protected from spambots. You need JavaScript enabled to view it.

Password
Bvcpk17@
Subscription Type:
free



Library News/Events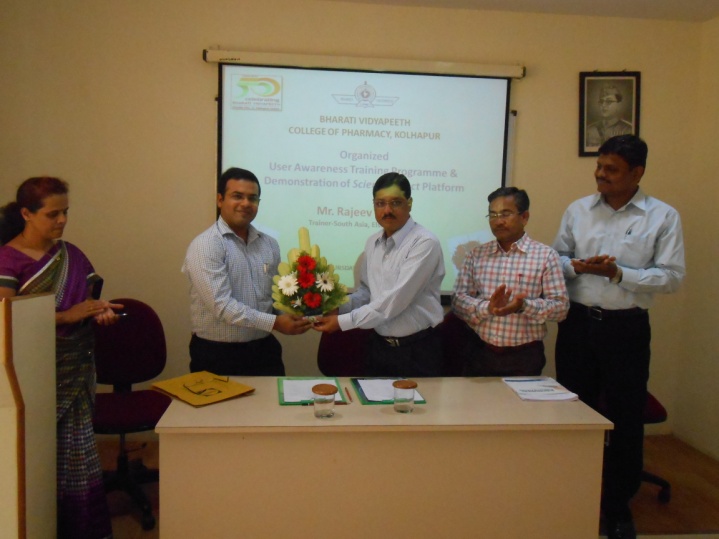 Users Awareness Training Programme:
Dr. H. N. More (Principal), Rajiv Kumar (Trainer Elsevier South Asia), Dr. M. S. Bhatia (Vice Principal) & Mrs. S. S. Patil (Librarian)
In the address, principal said that research has a vital role in current scenario. For quality in research, updation of knowledge is required. Hence by organizing of such training program will beneficial to researchers in their future.