Placement Cell
The college organizes the in-plant training for the third and fourth year B.Pharm students in reputed pharmaceutical industries and many of them are recruited in multinational and Indian pharmaceutical industries through the college campus interviews.
Our students are placed with
Zydus cadila - Ahmedabed
Cipla Pharmaceuticals - Mumbai
Glaenmark Pharmaceuticals - Mumbai
Macleods Pharmaceuticals - Mumbai
Career Options for Pharmacy profession in India:
India has a vast and growing pharmaceutical industry. Pharmacy offers reasonably good career opportunities both by way of jobs as well as in terms of starting your own business.The job avenues for a pharmacist are with pharmaceutical industry, government departments, universities, teaching hospitals, investigation and research institute etc. Within the pharmaceutical industry you might be involved in activities relating to the development, formulation, production or marketing of new drugs for clinical use. M.pharm or Ph.D holders are normally absorbed in research work, to develop new useful drugs, in laboratories and in production work in pharmaceutical industry and analyzing them for purity and strength. Pharmacist may also take up teaching as a profession as lectures in pharmacy colleges and universities.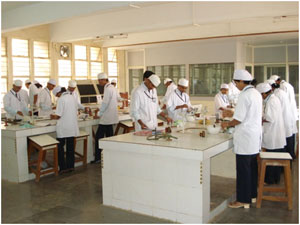 Pharmaceutics Department is equipped with state of art facilities giving hands on experience to B. Pharm. graduates. To meet the global needs in the area of formulation and development, we shape our students by exposing them to the research environment along with the routine curricula. The infrastructure comprises sophisticated equipments like 'Automated 8 basket Dissolution test apparatus', '10 station mini press', 'Brookfield viscometer' etc. and have have proved it's uniqueness in the department.

Pool-Campus Interview of Tata Consultancy Services, Mumbai on 31st January 2018
Pool-Campus Interview of Tata Consultancy Services, Mumbai on 31st March 2016